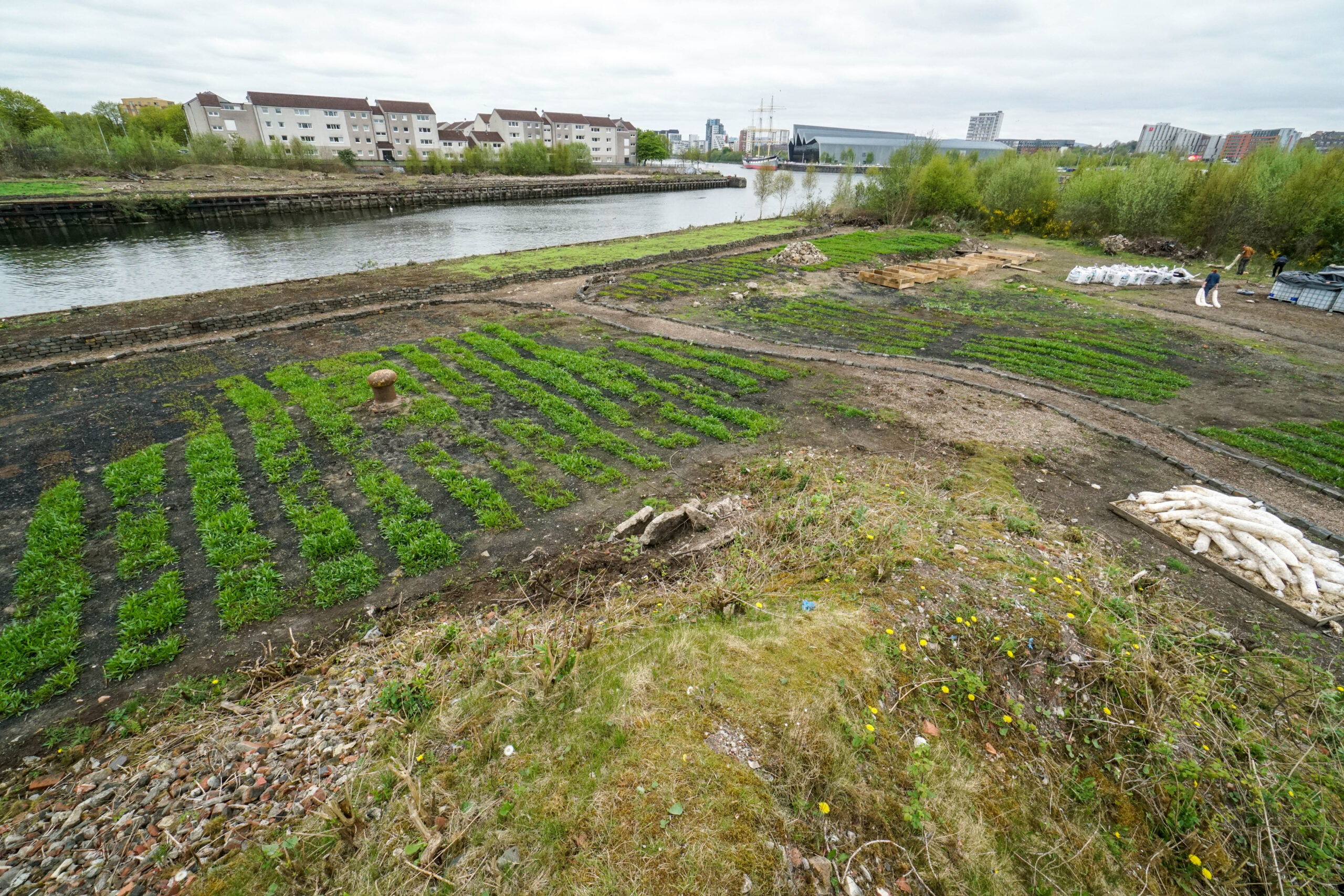 BLUE GREEN GLASGOW
We're a community interest company restoring post-industrial land at the Glasgow Govan Graving Docks by building wetland ecosystems for climate adaptation.
WHAT WE DO
We are a highly ambitious team of scientists, environmentalists and development specialists taking the two most abundant resources in the world – degraded land and seawater – to create wetland ecosystems that can store carbon, heal soils, and nurture biodiversity, all without a single drop of freshwater.
Our work empowers communities at the front line of climate change by supporting livelihoods, food security and creating climate resilience through nature-based solutions.
We recognise that coastal and water-based ecosystems hold an overwhelming percentage of the world's carbon, as well as provide homes for 40% of plant and animal species. 
Here in Glasgow, we see the opportunity of using these ecosystems in an urban setting to turn derelict and degraded land to capture tonnes of carbon, rehabilitate contaminated land, support biodiversity, create sustainable jobs, and provide green eco-parks for everyone in Glasgow to enjoy. The site also features regenerative farming practices that put nature at the heart of food production.
SO WHAT IS CARBON FARMING?
Carbon Farming is the process of combining the most carbon-retentive forms of conservation and environmental engineering and putting them all together in one place, creating a natural carbon sink that produces food without freshwater!
By selecting salt-tolerant plants from wetlands we can then create a natural habitat in the desert, or anywhere else, where these natural ecosystems tackle climate change threats like carbon emissions or desertification.
---
AND WHY WETLANDS?
Well, wetlands are simply amazing ecosystems!
They take in over 30 times more carbon than the rainforest, protect our coasts from rising sea-levels, and are home to an amazing 40% of plant and animal species in the world!
In fact, over 1 billion humans directly depend on wetlands in some way through fishing, transport, or even tourism. However, wetlands are under threat, with nearly 70% having been destroyed to make room for farming or cities.
THIS IS YOUR CHANCE TO MAKE THAT HAPPEN
With your support, we will scale up our operations so that they can be seen from space!
We are inviting you to join us as we launch the world's most ambitious carbon farming ventures out there. We will green the desert in Namibia, plant a million mangroves in Ghana, and build back Bangladeshi saltmarshes.
You can do so by donating to support our blue carbon project, integrating our story into your marketing, and even collaborating with us on creating new products like sustainable clothing and climate-friendly food.
---
---
GET IN TOUCH
If you would like to find out more, or explore potential opportunities to join our mission, we would be delighted to hear from you.
Director: [email protected]
General: [email protected]
We look forward to hearing from you!
---
PRESS
Access the full press release by clicking the download button and share it on your media channels.